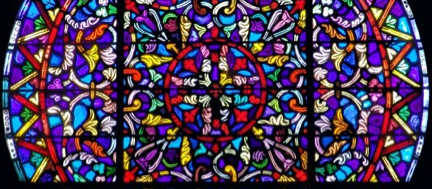 by Rev. Jacob Bolton
Over the midwinter school break, Huguenot Memorial Church in Pelham, New York, held a three-day eco workshop with youth. We screened the film Chasing Ice and learned about global warming; assessed our own eco-footprint and conducted a full eco and energy audit of all properties the church owns including office and worship space, a nursery school, gymnasium and two residences.  Although Huguenot Church now heats and cools the entire church building with geothermal energy, and we've achieved recognition as an Earth Care Congregation and, we still found plenty of opportunities to reduce our impacts.  In addition, we're taking our experience to other faith communities to help them conduct an eco-audit too.
"My favorite part was the waste audit," said youth participant Thomas Horowitz.  "People threw away so much paper that should have been recycled."
"If we had better signs and clustered our garbage and recycling bins, it would be easier for people to just put the paper where it should go," Thomas's brother Robert noted.
Some of the post audit recommendations included the installation of interior light sensory timers, further expansion of the composting system, turning off large refrigerators when not in use, claiming the parking lot as an "idle free" zone, and enhancing the church green space by fabricating bird houses and creating wildlife habitat.
"There are all kinds of birds all over our town," said Ben Jones. "Let's make this their home too."
Rev. Jacob Bolton is Associate Pastor Huguenot Memorial Church and a graduate of the GreenFaith program.
Additional resources:
If you would like to share your congregation's "green" news, please call (315) 256-0078 or email jswatkins@nyipl.org.
We want to hear from you!